N.C. Cooperative Extension's Homegrown: December Digest Includes Helpful Holiday Hints
Find this article at:
go.ncsu.edu/readext?639703

There's no place like Homegrown for the holidays!
It's hard to believe that our first full year of Homegrown is coming to a close. We're thankful to all of our NC State Extension experts, who help us provide everyday solutions for everyday lives – they're the star on top of our tree.
Speaking of which… As 2019 wraps up, we've wrapped a few more presents to help you through the holiday season (it's ok, you can peek)!
We hope you and your families find joy and prosperity during this special season, and we can't wait to explore more of the most interesting gardens, kitchens and farms across North Carolina with you in 2020!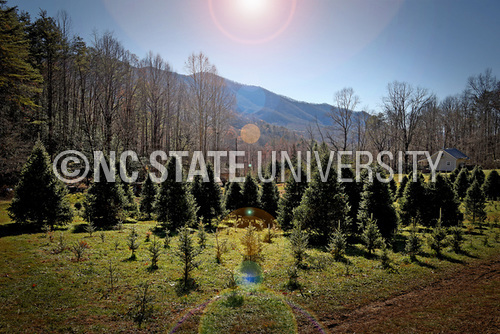 Caring for Your Christmas Tree Christmas trees need proper care or they'll quickly lose their luster and quality. Don't be a Grinch, follow these simple steps to keep your tree merry and bright throughout the season! Read on »
N.C. Christmas Trees: The Gift that Keeps on Giving Journey into the world of North Carolina Christmas trees to discover how NC State helps farmers grow, harvest and sell these seasonal delights. Read on »
Safely Storing Your Holiday Meal Leftovers It's after the big meal that you'll face some of the biggest questions, like "Can I nap right away?" and "How long can the turkey and fixin's sit out safely?" Read on »
Let Your Baked Potatoes Breathe Baked potatoes are an ideal side for any holiday meal, whether you add some sour cream, cheese, butter or…botulism? We'll show you how (and why) to give your spuds space to breathe after baking. Read on »
How to Safely Prep Your Holiday Pies It's not a holiday meal without some sort of pie. Every family member has their favorite, but so do bacteria. Find out which types of pie pose more or less risk and how to address those food safety issues. Read on »
Safely Serving Holiday Appetizers Family, friends and finger foods are annual staples during holidays like Thanksgiving. There's not much we can do about the first two, but we can help you serve them safe and scrumptious appetizers! Read on »
How to Tell When Your Turkey is Done How long will it take to cook this thing? How do I know if it's done? Should I trust the little plastic pop-up thermometer that came in the bird? Read on »
Should I Precook My Turkey Stuffing? As far as we're concerned, it's not a question of "if" there will be stuffing at Thanksgiving, but "how much"! We'll help you incorporate this hall-of-fame side dish safely into your holiday meal. Read on »
The Safest Way to Fry a Turkey Roasted, smoked, fried. However you cook a turkey, it's yummy. If you do decide to fry your turkey, there are extra safety issues to consider – good thing we have a food safety rockstar on our team!
Read on »
Poinsettia Care As you set out to pick the perfect poinsettias, let our experts share a few tips to help you choose and keep a healthy plant… It's our gift to you!