Weed Management in Pastures and Hay Fields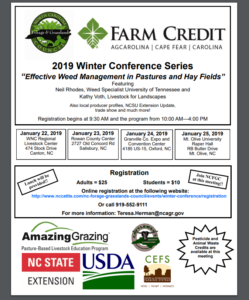 The 2019 Winter Conference Series of the North Carolina Forage and Grassland Council has scheduled a training at the N.C. Cooperative Extension, Rowan County Center on Wednesday, January 23, 2019. Registration begins at 9:30 a.m., with the program running from 10 a.m. to 4 p.m.
Lunch is provided with registration – $25 for adults and $10 for students.
2 Pesticide Credits in areas of K N O D X
3 Waste Credits will be offered at the training.
Registration can be completed online or by calling 919-552-9111.
Questions? E-mail teresa.herman@ncagr.gov.