Get Ready to Preserve Food at Home
Find this article at:
go.ncsu.edu/readext?474153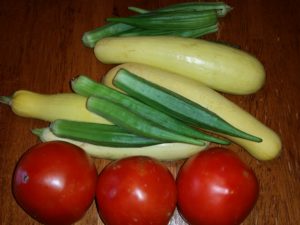 Home food preservation is not difficult, but there is science behind each method. Using proper food preservation methods will result in high quality products that are safe to eat. If you are new to home food preservation, consider the following information before you get started.
Use a Current Food Preservation guide.
Purchase a science-based food preservation guide. "So Easy to Preserve" (University of Georgia Cooperative Extension), the Ball Blue Book, and the USDA Complete Guide to Home Canning are three highly-regarded home food preservation resources. The recipes in these guides have been tested for safety and quality. When you obtain your new guide, read through it prior to your first attempt at preserving. Most of your questions will be answered and you will know what equipment you need to purchase. If you prefer a web-based source, check out The National Center for Home Food Preservation website at nchfp.uga.edu. This site sponsored by the University of Georgia, contains instructions for preserving foods by canning, freezing and dehydration. The site also has instructions for ordering the "So Easy to Preserve" food preservation guide and you will also find a link to the USDA Complete Guide to Home Canning.
Freezing Fruits and Vegetables
Freezing is a quick and easy way to preserve fruits and vegetables. Fruits may be packed in syrup, sweetened with sugar, or left unsweetened. Enzymes will cause apricots, peaches, apples and pears to darken. For the best quality, pre-treat the fruits with an anti-browning agent such as ascorbic acid. You can find anti-browning agents at a grocery store or wherever canning supplies are sold. When freezing fresh vegetables, you should blanch them first to kill surface bacteria and slow down the action of enzymes that may change flavor, texture and color. The blanching time will depend on the type of vegetable, the size, and whether the product will be frozen whole or cut into pieces.
Use the Correct Method for Canning
The pH or acidity of foods will determine which canning method should be used. Acid foods (all fruits except unacidified figs) may be safely processed in a water bath canner. Microorganisms in or on acid foods are easily killed at 212 degrees F, (the temperature of boiling water). Acidified tomatoes and figs can also be safely processed in water bath canners. These foods may be acidified by adding 1 tablespoon of bottled lemon juice per pint or 2 tablespoons per quart.
Boiling Water Bath Canning
Many of us think of a boiling water canner as a large dark blue and white speckled pot with a lid and rack. If you don't have this type of pot, you can use a large stockpot with a lid. The pot needs to be deep enough so that all jars remain covered with 1-2 inches of briskly boiling water during processing. Use a canner rack to keep the jars from sitting directly on the bottom of a water bath canner
Pressure Canning    
Low acid foods (vegetables such as green beans, corn, okra, and tomatoes that are not acidified) must be processed in a pressure canner. This is because Clostridium Botulinum, (the bacteria responsible for botulism) forms spores that can survive for hours at the temperature of boiling water. A small amount of this toxin can be fatal to humans and animals. The spores are destroyed at 240 degrees F, the temperature reached in a dial-gauge pressure canner at 11 pounds of pressure or in a weighted gauge pressure canner at 10 pounds of pressure.
Always follow the instructions provided in your canning guide. Never take shortcuts or change a recipe. The ingredients, methods and processing times have been tested for quality and reliability. Never add or leave out an ingredient unless the recipe says it is optional. Making changes could result in a product that is under-processed and could be dangerous for those who consume it. If you or someone in your family is on a special diet, use the recipes for special diets found in your canning guide. Never modify a regular recipe for special diets, unless your canning guide provides directions for doing so.
Your pressure canner should come with a user's guide, however the recipes from older guides may no longer be safe. If your pressure canner is old or you purchased it used, make sure you use current science-based canning guide.
Home canning requires a small investment to get started, but you will be able to use your items year after year. Jars designed for home canning may be used for several years, but if they have nicks or cracks, discard them. Never use commercial jars such as mayonnaise or pickle jars for home canning. These jars are intended for one time use, and may break or not seal properly. Old style jars that cannot be fitted with two-piece vacuum caps should not be used. It is not necessary to put wax over the lids.
Have Your Dial-Gauge Canner Checked Annually
If you have a dial-gauge canner, have the gauge checked at least once a year for accuracy. Gaskets on dial-gauge and weighted gauge canner lids should also be checked to make sure they are not cracked or dried out, and fit well. Your local Extension office provides dial-gauge canner lid testing by appointment, at no charge.